News Bytes
Nehru Planetarium Launches a Special Show for Hearing Impaired
3/5/2014 8:36:00 PM UTC - The Nehru Planetarium of Nehru Centre, Mumbai along with Infovision Technologies, India launched a special planetarium show for people with hearing disabilities. Our fulldome production "Wonders of the Universe" was modified to include a sign-language interpreter composited into the show. This was India's first digital planetarium show for the hearing-impaired.
The program was attended by about 300 hearing-imparied people.

We offer congratulations to the Nehru Planetarium Mumbai and Infovision Technologies, and all others involved with this successful premiere.


E&S in 8K Panel at IMERSA Summit
2/26/2014 6:39:51 PM UTC - E&S will be participating in the conversation about 8K on Sunday night, March 9th, at the Fiske Planetarium during the IMERSA Summit. Here is our new ad featuring our two most recent 8K installations.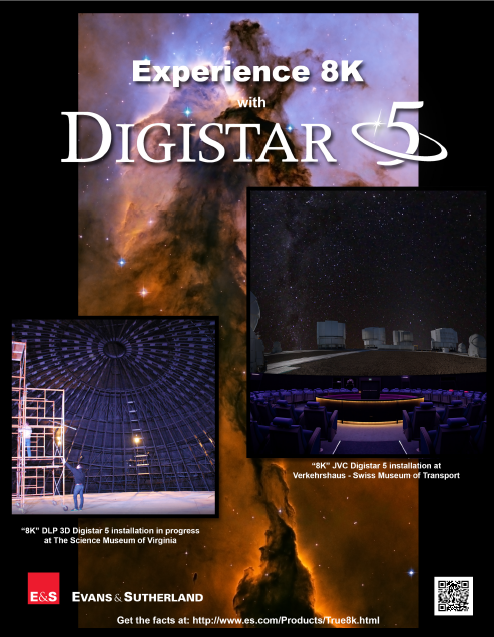 Loch Ness Productions Installs Digistar 5 System
2/18/2014 4:22:37 PM UTC - Loch Ness Productions is pleased to announce the installation of an Evans & Sutherland Digistar 5 Producer Workstation in its Colorado studios as part of a cooperative agreement between the two companies. View the Press Release.

Digistar 5 4K at Spanel Planetarium
2/14/2014 3:30:02 PM UTC - Some people get 4 carats for Valentine's Day. Western Washington University's Spanel Planetarium is getting 4K! We are installing a 4K center mount projector and a Digistar 5 system! Congratulations!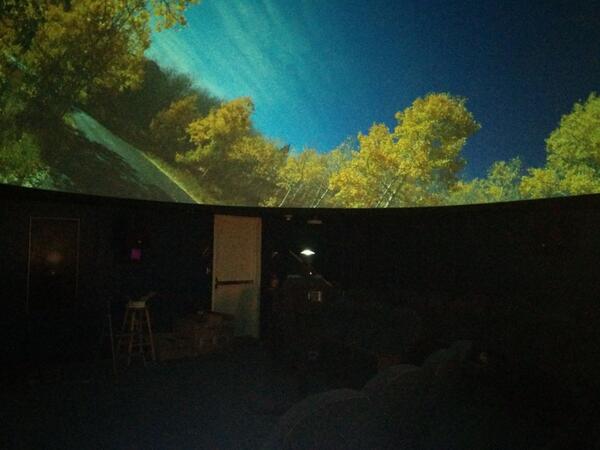 Digistar Training This Week
2/7/2014 10:38:58 PM UTC - This week we have had a few Digistar users in for some Digistar 5 Software Training. One of the students in our class this week has never seen snow before. He had a lot of questions, including some about snowballs. We were happy to answer some of those questions at lunchtime! It is such a lovely winter day that we also took the opportunity after eating to visit the Emigration Canyon summit. We saw the snow-covered mountains and got refreshed for an afternoon of learning how to write custom Digistar 5 scripts.

Sneak Peek Inside the Science Museum of Virginia's New Theater
2/6/2014 6:25:29 PM UTC - A sneak peek during the construction of the new NanoSeam dome at the Science Museum of Virginia. Their new Digistar 5 8K 3D fulldome system is opening next month.

Digistar 5 in the Evansville Museum
1/29/2014 6:34:23 PM UTC - One of our newest Digistar 5 theaters will be opening next weekend in Evansville, Indiana. Congratulations to our friends at the Evansville Museum of Arts, History & Science. We wish you great success with your new theater.
http://emuseum.org/koch-immersive-theater
2014 IMERSA Summit.
1/22/2014 6:58:09 PM UTC - The IMERSA Summit is approaching quickly. E&S is a Premier Sponsor, and we would like to invite all of our Digistar users to attend. The Summit is shaping up to be a true touchstone for the entire industry. Please visit imersa.org for more information about the Summit and to register online. We hope to see you there!
Rosetta Spacecraft Prepares for Rendezvous with Comet
1/20/2014 7:18:14 PM UTC - The Rosetta spacecraft successfully woke up today from a deep sleep after a long voyage. It is on its way to rendezvous with comet 67P/Churyumov-Gerasimenko later this year. This robotic explorer along with many others are portrayed in our latest fulldome production, Robot Explorers.
Click here to read more about the Rosetta mission here on the European Space Agency's website.
Texas A&M - Commerce Reopening With Digistar 5
1/17/2014 10:58:14 PM UTC - Congratulations to our friends at Texas A&M University-Commerce on the grand reopening of their planetarium this month with Digistar 5! We wish you phenomenal success!
http://sites.tamuc.edu/news/university-planetarium-to-hold-grand-reopening/
Science Museum of Virginia Dome Upgrade
1/15/2014 5:49:50 PM UTC - The Science Museum of Virginia has been getting a lot of great news coverage about the installation of their new NanoSeam dome and 8K Digistar 5 system. The upgraded theater opens to the public two months from today. We can't wait to see it!
http://www.richmond.com/arts-entertainment/article_34fb76ac-7935-11e3-9cfd-001a4bcf6878.html
IMERSA - Jeri in the Sky with Diamonds
1/8/2014 10:35:23 PM UTC - Jeri Panek will receive lifetime achievement honors at the 2014 IMERSA Summit, March 6-9 in Denver. Judith Rubin wrote this article about Panek's career, which spans the birth of the computer industry and the creation of the digital planetarium. Congratulations Jeri!
Click here to read more.
2014 Lunar Calendar
12/27/2013 7:24:15 PM UTC - Happy New Year! Download a copy of our latest Lunar Calendar for the new year here. Grab your copy today!
8K Digistar 5 System in Lucerne, Switzerland
12/11/2013 5:52:14 PM UTC - The brand new 8K Digistar 5 system at the Swiss Museum of Transport opened December 1. Here's a look inside their fulldome theater.

IMERSA Lifetime Acheivement Award to Jeri Panek
11/20/2013 4:43:08 PM UTC - IMERSA (Immersive Media Entertainment, Research, Science & Arts) has announced that Jeri Panek, Director of Sales at Evans & Sutherland, will receive lifetime honors at the organization's 2014 Summit in Denver, March 6-9. We congragulate Jeri Panek, one of the true pioneering visionaries of digital fulldome. Jeri's belief in the original Digistar, the world's first digital planetarium, paved the way for today's fulldome immersive theaters.
http://www.inparkmagazine.com/jeri-panek-to-receive-lifetime-achievement-award-from-imersa/
Digistar Demo Video at ASTC 2013
10/25/2013 5:33:07 PM UTC - Since our Digistar 5 demo at ASTC took place in Albuquerque this week, the home of Breaking Bad, we decided to see what happens when Breaking Bad meets Digistar.

ASTC 2013 Conference
10/20/2013 6:54:16 PM UTC - We are at the 2013 annual conference for the Association of Science - Technology Centers this week. At our booth we are showing live demonstrations of Digistar 5. We will also have a fulldome presentation on Tuesday, October 22 at the New Mexico Museum of Natural History & Science. Hope to see you there!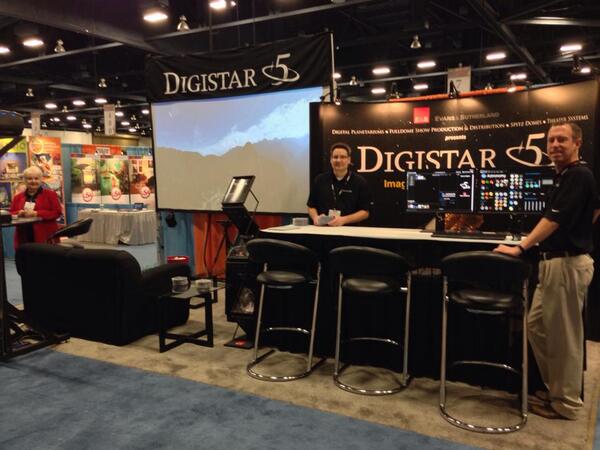 Science Museum of Virginia Chooses New Digistar 5 System
9/25/2013 5:20:53 PM UTC - "The Science Museum of Virginia will give visitors a state-of-the-art cinematic experience with the new Evans & Sutherland Digistar 5 system upgrade."
--Kirk Johnson, E&S Vice President and General Manager

"The Science Museum will be opening up the full expanse of the cosmos to our guests to explore the universe in a truly spectacular fashion."
--Richard Conti, CEO/Chief Wonder Officer, Science Museum of Virginia.

In early 2014, the Science Museum of Virginia (Richmond) will launch its upgraded, 23-meter (75 ft) dome theater, featuring Digistar 5 projection, with near-8K resolution and active stereoscopic 3D.

Read the complete news release and download images for this story.
Photo: Big Shipment of Digsitar 5 Systems
9/23/2013 3:47:41 PM UTC - It's another Monday morning at E&S, and just look at all the Digistar 5 systems we are getting ready to deliver all around the world. Yep, it's going to be another busy week, and we couldn't be more excited to see so many D5 systems on their way to new happy homes!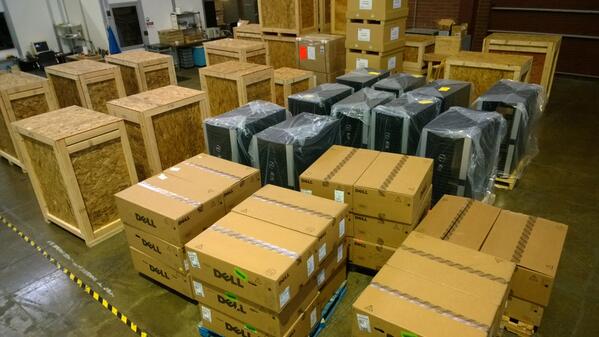 2013 British Association of Planetaria Conference
9/19/2013 8:25:04 PM UTC - The 2013 BAP Conference is coming up soon! It runs from September 27-28 at the International Centre for Life in Newcastle. We will be there demonstrating Digistar 5 and showing some of the great new features with Skypoint, our European agent.
Click here for more information