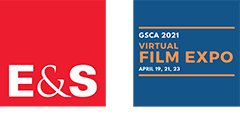 DomeX: Redefining the
Giant Screen Cinema Experience
GSCA Film Expo 2021
Proud Partner-Level Sponsor
We're honored to introduce DomeX to the Giant Screen Cinema community. Join us during the Innovations session at GSCA Film Expo 2021 to learn about LED dome display capability, and new possibilities for digital dome content.
Date: Friday, April 23
Time: 1:00 p.m. EDT

The E&S Innovations presentation delivered at GSCA Film Expo 2021 explored the many advantages of LED Domes for Giant Screen Cinema, as expemplified by DomeX at the Cosm Experience Center.
• Extreme Contrast
The matte-black surface of DomeX eliminates cross reflections in the dome, dramatically increasing contrast — LEDs can turn completely off. With DomeX, cinematic black levels are extraordinary.
• Extreme Brightness
Conventional Giant Screen projection creates brightness levels of approximately 4 foot-lamberts. The light output of DomeX is over twenty times brighter.
• Extreme Resolution
DomeX delivers true 8K resolution — more than 67 million individually-addressed pixels on the dome. The resolution of DomeX is determined by the total number of LEDs in the display, and can be tailored to specific customer needs.
• Extreme Lifespan
Instant-on LED panels require little maintenance over the 100,000-hour lifespan of a DomeX system.
To fully appreciate this revolution in giant screen display, you need to see it for yourself. That's why we've built a 20-meter DomeX dome as the centerpiece of the Cosm Experience Center at our Salt Lake City, Utah headquarters.
The Cosm Experience Center is both a demonstration and an R&D facility. The unique theater geometry is representational of a Giant Dome Cinema, a flying-style attraction ride, an interactive amphitheater, a hypersphere planetarium dome, and even a cutting-edge virtual film production studio.
DomeX Structure by
Spitz Engineering
Supporting every DomeX is a superior structure designed, engineered, fabricated, and assembled by Spitz, the world's leader in display domes, with over 2,000 dome installations worldwide.
The precision of this support framework is truly remarkable — LED panels can be positioned to a tolerance of just .004 inches (0.1mm), approximately the width of a strand of human hair.
ESX

Live: The Real-Time Power Behind DomeX
ESXLive gives Giant Screen venues the power to share diverse, alternative content relevant to the individual needs of your audiences.
Streaming video, data visualization, event visuals, sponsor and special guest recognition, real-time environments, and multimedia presentations are simple to create, navigate, and modify.
We're now offering DomeX demonstrations at the Cosm Experience Center, with full accommodations for all federal and state COVID-19 guidelines.
It's real. It's spectacular. And we can't wait for you to see it for yourself.