Show Builder
Quickly create custom content for your dome without having to write scripts using Show Builder.
Navigation
Digistar 6 reimagines navigation for the most intuitive, flexible travel possible. Flying across landscapes and through space is a easy as picking up an Xbox controller.
STEAM
Digistar 6 interactive STEAM education brings physics, chemistry, math, anatomy, engineering, art, and many other subjects to your fingertips.
DO MORE
In a class all its own, Digistar provides powerful features and the most user-friendly interface in the planetarium industry. Its robust digital theater platform offers presenters day-to-day reliability matched with innovative tools to inspire the most demanding audiences.
Projector
Solutions
Offered with a variety of projection options, Digistar works in any size dome
Available configurations include: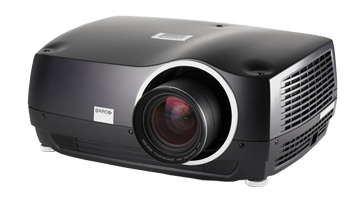 Digistar Outreach
For portable or small theaters up to 10 meters (30 feet) the Digistar Outreach uses a single DLP projector with a fisheye lens in the center of the dome.
Single 4K Projector
This single 4K projector is mounted in the center of the theater with no blending required.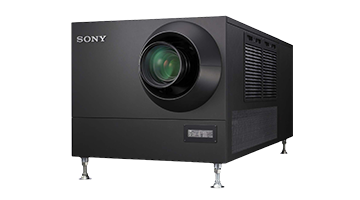 4K System
Two 4K projectors are mounted either in the center of the theater or in the front and back of the theater cove and are blended together in a single blend region across the dome.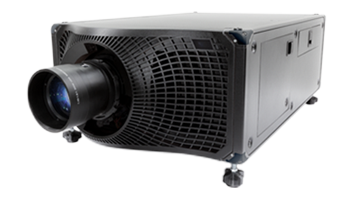 8K or True8K™ System
Five or ten projectors are mounted in the theater cove and are blended together to create a seamless ultra-high-resolution image. The ideal solution to replace 1570 giant screen film systems.
Cloud

Library

Digistar comes with a revolutionary built-in cloud sharing capability that will connect Digistar customers worldwide. The Digistar Cloud makes sharing great content simple. Upload to share or find what you need with the advanced library search. Download and install images, models, shows, videos and more with just a single click.
Domecasting
Digistar 6 includes a powerful new Domecasting feature that enables Digistar 6 theaters to broadcast live dome presentations to other D6 theaters in the community. Upcoming Domecasts show up in the Digistar user interface, so that other theaters can tune-in to live presentations and experience them simultaneously.
Ease

of Use

Digistar features the industry's most powerful, advanced, and easy-touse interface available. In Digistar 6, the UI has been further refined and improved to put even more capabilities and information at the user's fingertips. Its intuitive drag and drop architecture and simple controls for interacting directly with imagery on the dome have made Digistar software the choice of hundreds of theaters across the globe.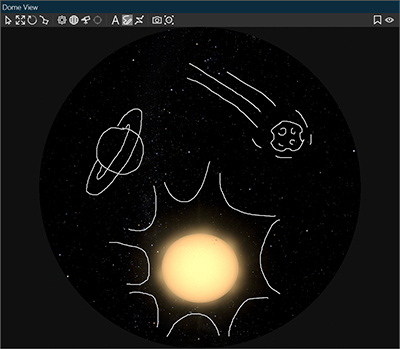 Interactive Dome-View Drawing
Digistar allows users to draw directly on the dome view in the UI. Right next to the existing 'Text tool' there are now freehand and straight-line drawing tools.
Desktop Streaming
Digistar can now stream the host desktop to be displayed on the dome. The full or a specified portion of the desktop to be streamed can be selected.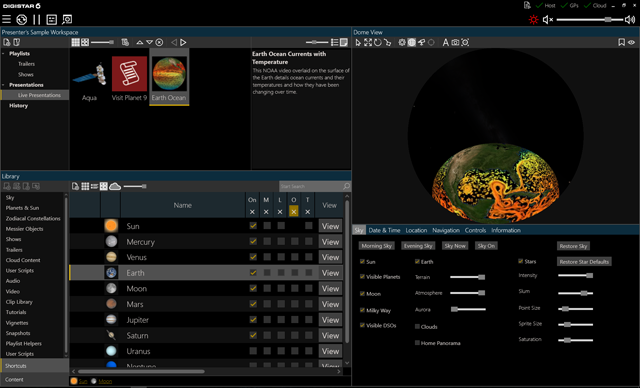 User Interface
Digistar features the industry's most powerful, advanced, and easy-to-use interface available. In Digistar 6, the UI has been further refined and improved to put even more capabilities and information at the user's fingertips. It's intuitive drag and drop architecture and simple controls for interacting directly with imagery on the dome have made Digistar software the choice of hundreds of theaters across the globe.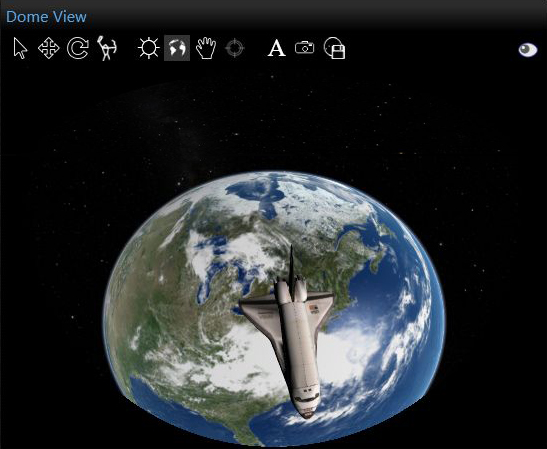 Interactive Dome View
Directly interact with the objects on your dome and add other items to the dome simply by clicking and dragging. The dome view also allows for panning and zooming and moving time forward and backward.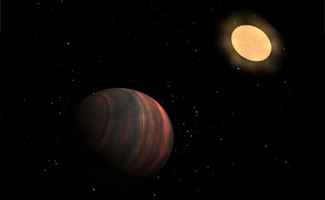 Multiple Stars, Variable Stars, and Exoplanets
Dataset contains multiple stars, variable stars and exoplanets to explore, all available through Digistar's user interface. New sophisticated algorithms allow astronomical bodies to maintain accurate positions and sizes across the enormous range of astronomical scales.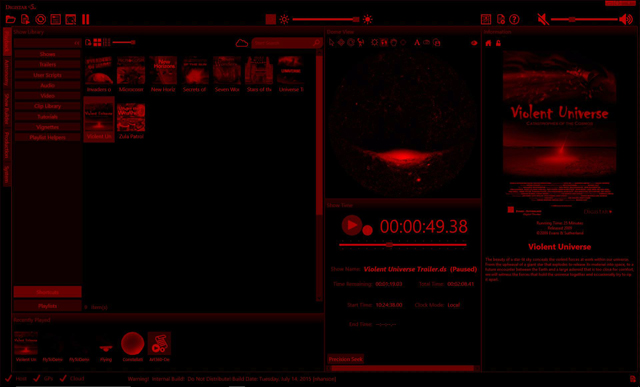 User Interface Dark Mode
Designed for use in low light environments, dark mode reduces light scatter in the dome and preserves the operator's dark adaptation. Digistar features standard red mode and an alternate green mode to further minimize light output. A high-contrast monitor with a fully dimmable backlight is also available.
Astronomy Features
Digistar's user interface puts the system's vast amount of astronomical data at your fingertips in a variety of ways including shortcut buttons that group content by sky, planets & sun, Zodiacal constellations, Messier Objects, shows, trailers, etc. The user interface offers tagged searches, smart lists, and traditional folder views.
Seasonal Earth Textures
When viewing the Earth, Digistar displays surface imagery appropriate to the time of year.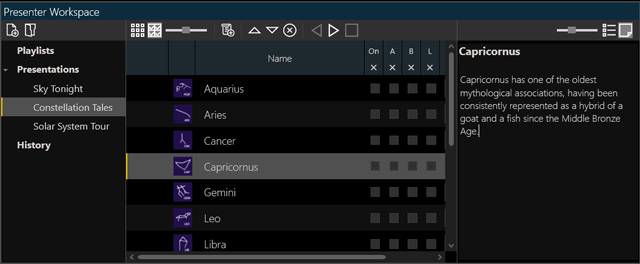 Workspaces
Digistar 6 has an enormous library of content available. Workspaces are new a way to collect and organize that content for use in live presentations. These new presentations can then be controlled by an iPad, Bluetooth presentation remote or Xbox controller, enabling the presenter great flexibility to move around the dome and interact with the audience. Workspaces also allow users to create playlists of content for one-click playback of walk-in music, lighting scripts, trailers, full pre-rendered shows and other items.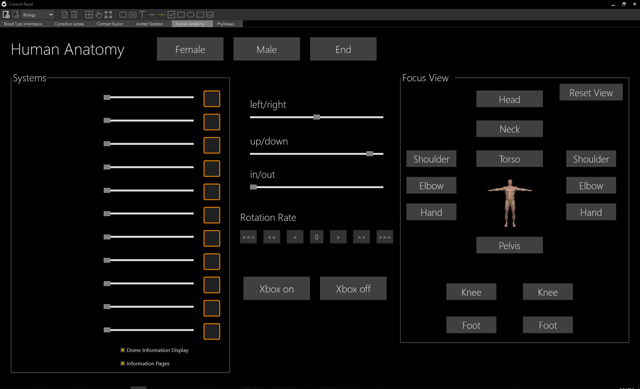 Control Panels
Digistar allows users to customize control panels for their presentations that can be loaded onto an iPad or other mobile device. Users can then present their shows live in front of the audience using the control panels on their mobile device.

Show Builder
The fastest way to create content for the dome, Show Builder allows users to craft a show one snapshot at a time with an intuitive point-and-click process. Users can set up a scene on the dome using the tools within Digistar and then take a "snapshot" of the scene they created. By modifying this scene and taking successive snapshots, users build a show from beginning to end with available editing tools to adjust snapshot durations, transition timings, edit or insert snapshots into a sequence, and more. Show Builder shows can be converted to standard Digistar scripting language so that they can be further edited by users who prefer to write show scripts themselves.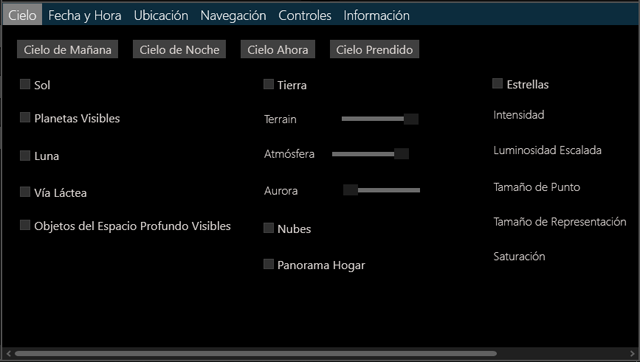 Internationalization
Digistar's user interface and dome output can be changed to display in any language. Choose from the included languages, or import data to add new languages.
Intelligent Search
Digistar features a fully-integrated search engine that quickly allows users to find content in the system and drag it to the dome for immediate use.
Spice Toolkit
Where available, the positions of solar system bodies are now calculated using the Planetary and Lunar Ephemerides DE431, a numerical simulation of the Solar System created by Jet Propulsion Laboratory. We access the data kernels using the SPICE toolkit, a software package widely used for planning, visualizing, and archiving interplanetary spacecraft missions. This gives Digistar the ability to determine the positions of the planets, Pluto, and the Moon at high accuracy over a 30,000 year time span, as well as the positions of other major moons over a span of a few hundred years.
Intuitive Navigation
Navigation through the Universe in Digistar 6 has been completely redesigned to offer more intuitive "free flight" controls using the mouse, Xbox controller, or joystick. New features include a fly-to "target mode" that allows users to set a destination and fly to it manually.
Information at Your Fingertips
Each object in Digistar comes with a detailed information page. This provides presenters with ready-access reference material to help them answer questions or to provide them with helpful data about any object in the system. Users can add their own notes or even live web links to these pages to make this information even more useful.
Image
Quality
Digistar 6 offers a variety of projection systems for domes of all sizes (3-30+ meters) with solutions ranging from a single projector 1K x 1K display to True8K™ resolution with 10 or more projectors to create the highest quality digital starfield and to exceed 1570 giant screen film resolution.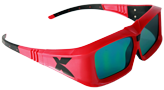 3D
Active Stereo and INFITEC Stereo support at 60 fps per eye
Up to 120 FPS Video Playback
Digistar 6 offers video and real time playback at up to 120 frames per second, four times the industry standard of 30 fps. By doubling or quadrupling the number of frames played back over the same amount of time, the perceived resolution of the scene goes up dramatically. Motion appears much crisper and less blurry since the human eye sees much more visual information every second.

Auto Alignment & Auto Blending
Optional systems that not only automatically align the geometry of multiple video projectors, but also adjust brightness and edge blending between projectors. With one click the system automatically aligns in only a few minutes to within .5 pixel accuracy.
High Definition Video Input
This optional live input accepts up to 1080p HD or SD video from a variety of sources including Blu-ray, DVD, satellite/cable, PC, and video cameras for real-time display anywhere on the dome. Realtime chroma keyer allows instant compositing of live video.
8K and True 8K™ Resolution
Digistar systems can provide the highest digital resolution currently available, up to True8K – a minimum of 8000 x 8000 pixels across every meridian in the dome.
Synchronization
E&S has engineered custom synchronization hardware that keeps video channels playing together with 0 frame accuracy, eliminating channel tearing or image drift between projectors.
Custom Engineering
E&S has designed projection solutions for theaters of all shapes, sizes, and resolutions, including the world's first fully spherical theater and an inverted dome undersea experience.
Content
Digistar comes with a wide assortment of real-time, interactive scenes on a variety of topics including astronomical science and STEAM (science, technology, engineering, art, and mathematics) content. The new Digistar STEAM Library contains a growing collection of content with a suite of control panel pages for interactively exploring the scenarios in detail. Digistar also has a collection of real-time models, including detailed human anatomical systems and more.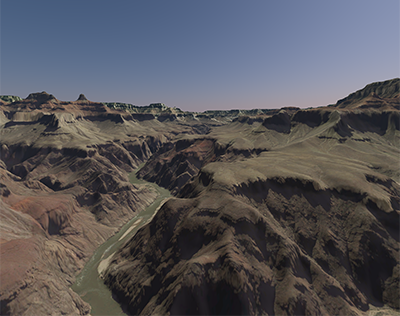 Advanced Terrain Engine
Digistar now features an improved terrain engine that supports vastly more detailed elevation data for improved realism. Elevation datasets can be combined and layered as desired. Earth, Moon and Mars datasets have been updated and improved, and several datasets for other planets and moons are now included.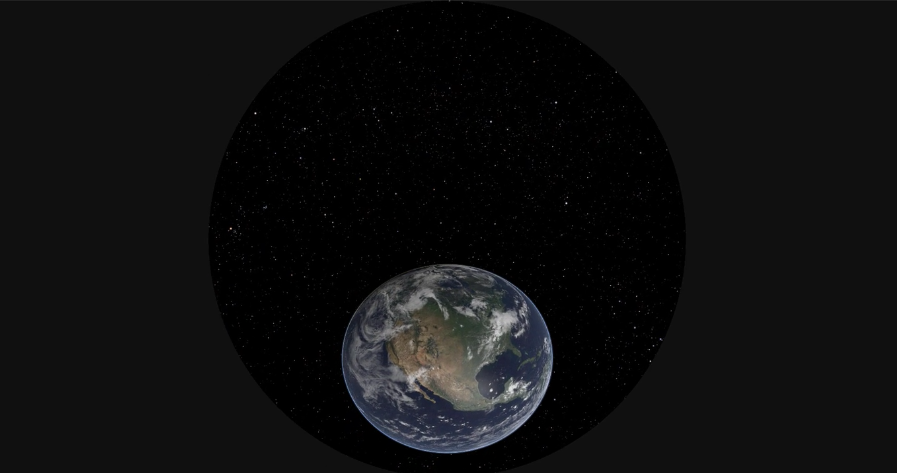 Improved Earth Textures
Earth's color and topographical textures have been updated and improved. The textures are higher resolution, the colors provide more attractive views of the different hemispheres (the default color view is a composite of different seasons), and the outlines of water (the ocean coasts, seas, and rivers) are dramatically more detailed.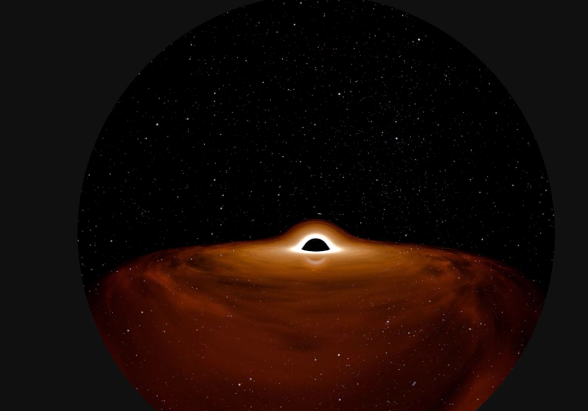 Black Hole Rendering
The gravitational lensing effect of Schwarzchild black holes can now be rendered in Digistar. A black hole can be defined by its Schwarzchild radius, and then be placed in any composition, layer, or draw mode. Anything rendered behind the black hole will be distorted, and characteristic effects such as Einstein rings can be seen.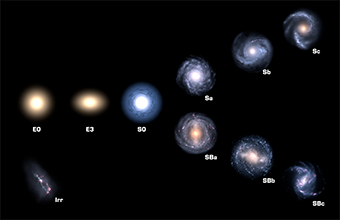 Hubble Tuning Fork Volumes
Several new galaxy volume models have been added to Digistar that represent the Hubble Tuning Fork galaxy classification scheme.
Navigation Enhancements
Terrain Exploration Mode: It is now possible to fly down to, and explore, the surface of planets just by using the Xbox controller. Navigation will automatically, and seamlessly, synchronize its motion with a spinning planet as you descend to the surface. Digistar now supports flying into valleys or through mountain ranges on the Earth, Moon, Mars, or any planet, moon, exoplanet, or exomoon on which terrain is defined.
Unity 3D Plug-in
A new plugin has been developed to use within the Unity3d game engine that will allow the game to be streamed into a dome theater. A single script attached to a scene camera will handle streaming the scene out in a format that can be easily rendered across the dome.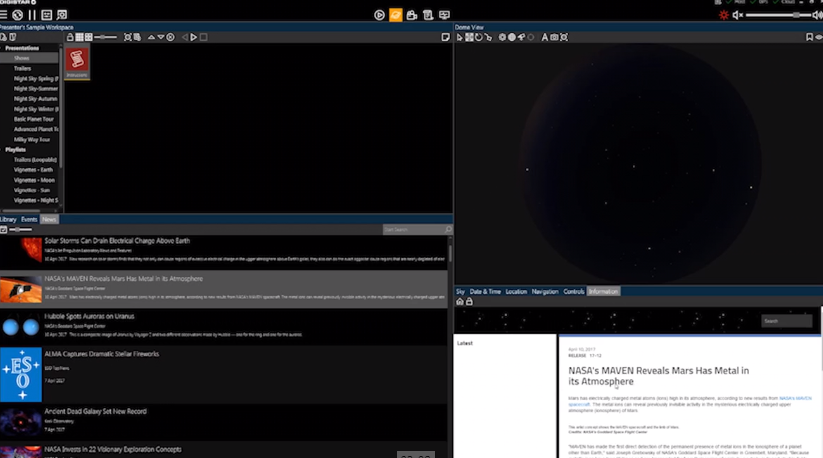 Data2Dome
Digistar 6 is the first system to fully integrate the Data2Dome (D2D) standard published by the International Planetarium Society. D2D allows data feeds from ESO, ESA, Spitzer, and a host of astronomical observatories on Earth and in space to stream into Digistar 6 every day. Videos, images, fulldome stills, and more are available for instant dome display.
Data2Dome Improvements
Digistar now supports data2dome events, which can be viewed and downloaded in the library calendar window. The software now supports the download and automatic conversion and installation of video frame zip files. New data2Dome source feeds can also be automatically integrated as they become available.
Astronomy Models
Digistar comes with over 100 real time models including modern and historic spacecraft, observatories, comets, asteroids, and more.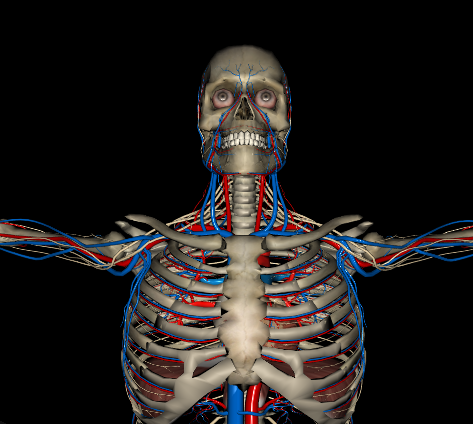 Biology
New visualizations demonstrate the following concepts: Blood Type Inheritance, Corrective Lenses, Contrast Illusion, Phyllotaxis, Human Anatomy (Male & Female), Jointed Skeleton
Chemistry
Digistar 6 STEAM content includes the Periodic Table of Elements with a variety of data that uses can explore, including 3D molecular models, hardness data, melting point, discovery dates, and much, much more.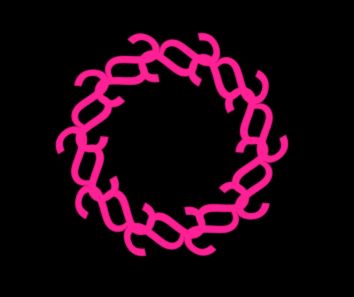 Art
New visualizations demonstrate the following concepts: Color Angles, Color Wheel, Rotation Patterns, Spirographs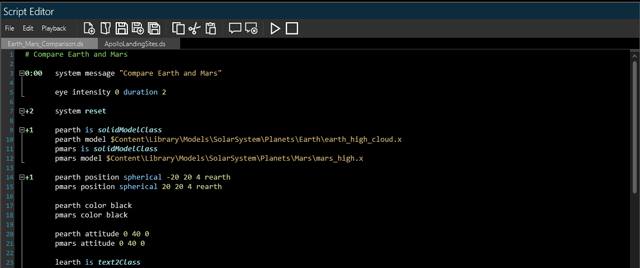 Scripts
Digistar includes a number of pre-produced real time sequences on various astronomical and scientific topics. These scripts can be mined for great ideas that you can copy and paste into your own show scripts, and the predictive Digistar Script Editor makes scripting shows in Digistar easier than ever before!
Clips
Digistar includes a selection of royalty-free music and traditional (flat screen) video clips that users can integrate into their productions.
16K Planetary Textures
Display vivid 16K resolution surface textures for all the planets in the Solar System.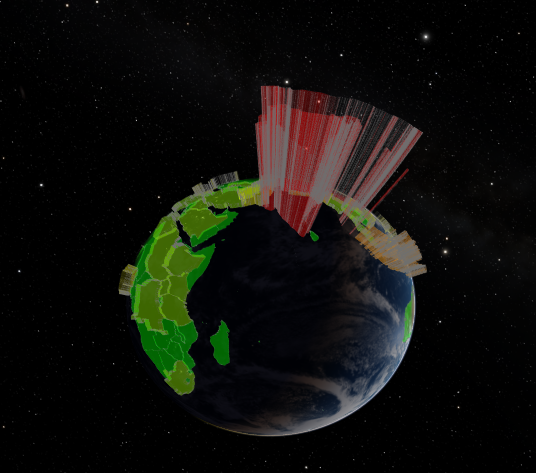 KML Data Support
KML is a file format used to display geographic data in an Earth browser such as Google Earth and Google Maps. Digistar provides support for KML data display on Earth.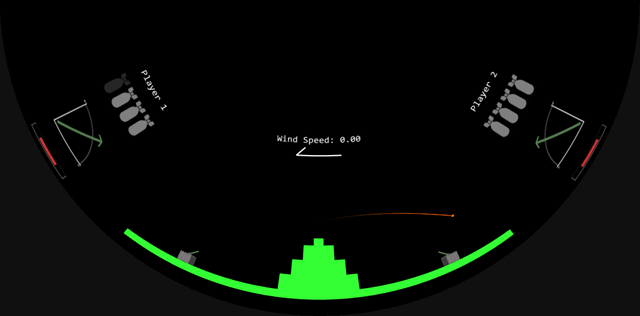 Engineering
New visualizations demonstrate the following concepts: Aeolipile, Artillery, Balance Beam, Critical Angle Box, Four stroke engine, Lissajous polishing robot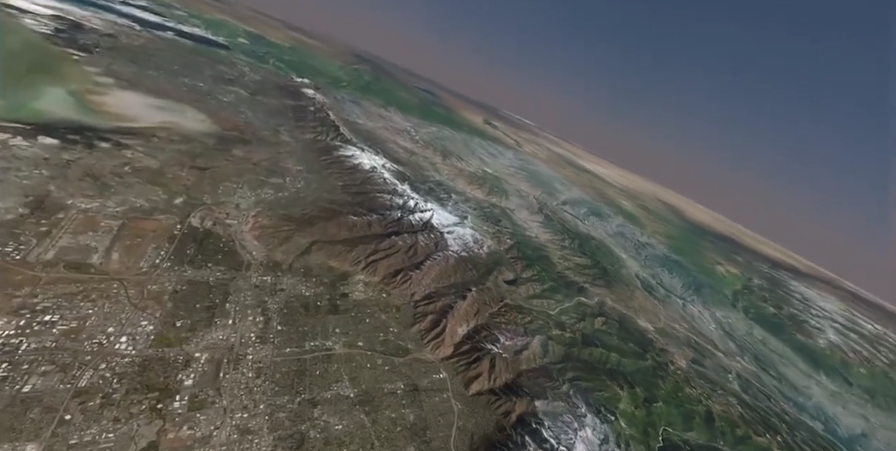 Virtual Reality
Digistar 6 can now be used with virtual reality headsets to preview or produce fulldome content. Support is included for OpenVR-enabled Virtual Reality Headsets (such as the HTC Vive and Oculus Rift).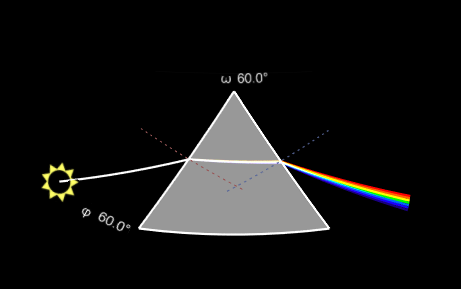 Physics
New visualizations demonstrate the following concepts: Elevator weight, Interactive pendulum, magnetic field simulator, Michelson-Morely experiment, Prism refraction.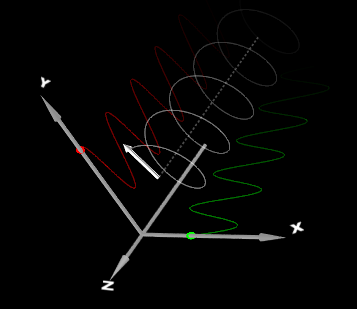 Mathematics
New visualizations demonstrate the following concepts: Cosine theta unit circle, sine theta unit circle, interactive unit circle, basic multiplication, sine-cosine wave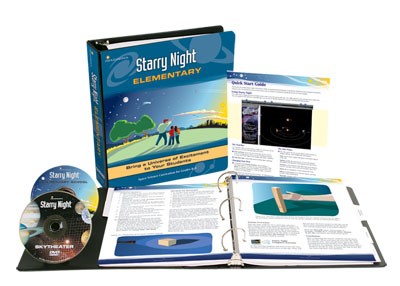 Starry Night Curriculum
Digistar includes real time sequences and written curricula that illustrate and teach core astronomy concepts for students at a variety of age levels. A complete set of included demos follow Starry Night Curriculum examples. Curriculum sold separately.
Show Library
E&S has the world's largest library of fulldome shows available for license to theaters. This library includes over 250 shows including over 20 shows produced by E&S and over 50 giant screen films transferred to digital fulldome.
AMNH Digital Universe Dataset
The Digital Universe dataset from the American Museum of Natural History and NASA is fully integrated into the user interface.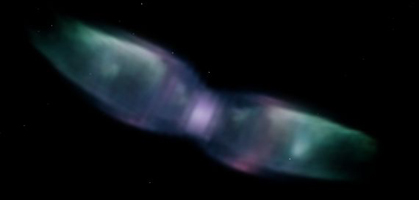 Volumetric Models and Particle Systems
Digistar incorporates an advanced algorithm for rendering volumetric data in real time. Clouds, nebulae, and the Milky Way galaxy can all be displayed in volumetric form in real time. Particle system rendering generates weather, volcano, geyser, fire, and other effects in real time.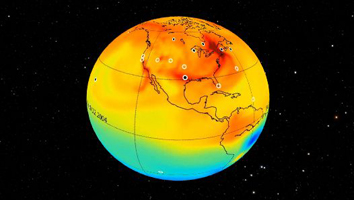 Integration of NOAA Science on a Sphere®
Digistar contains more than 200 unique datasets in five categories: Astronomy, Atmosphere, Land, Models & Simulations, and Ocean. This includes more than 25 realtime Earth weather and solar datasets and a number of selfrunning and presenter-led demonstrations.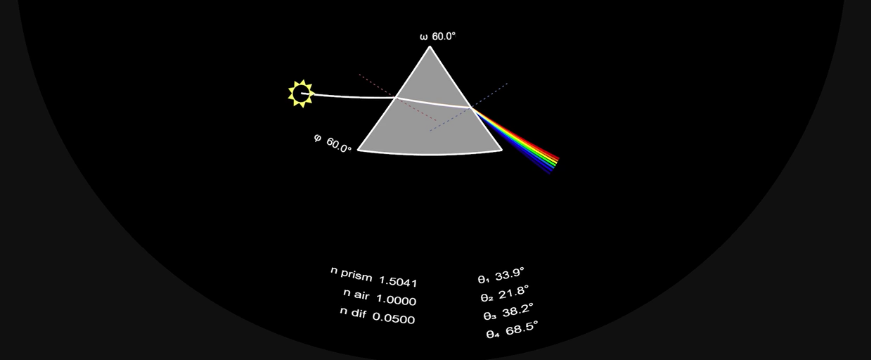 Digistar STEAM Library
Digistar comes with a wide assortment of real time scenes on a variety of topics including astronomical science and STEAM (science, technology, engineering, art, and mathematics) content. The new Digistar STEAM Library contains a growing collection of content with a suite of control panel pages for exploring the scenarios in detail.
Hybrid Planetariums
We have over 40+ hybrid systems around the world where Digistar is used along with an optical mechanical star ball. We are happy to work with all the mechanical star ball providers giving you the system you want