Digistar Lite is the most complete portable planetarium solution. The system is easy to set up and fully controlled from your tablet or iPad with the exclusive Digistar Controller. Many optional plug-ins and custom hardware is available to expand the capabilities of the planetarium.

The ultimate in portable and small fixed planetariums, includes the core features of Digistar software, with optional features like Digistar Cloud Library, Domecasting, Show Builder, and others available for purchase at any time.
Breaking out system features as optional software upgrades has allowed us to introduce the core Digistar Lite systems at a very competitive price. With advanced features, not previously available in portable planetarium systems, Digistar Lite will revolutionize the way you present fulldome astronomy in your mobile dome.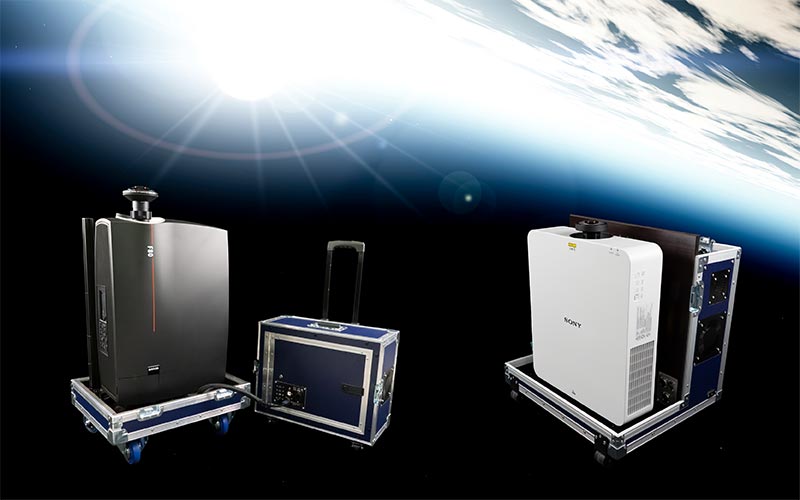 Ready to Use
With Digistar Lite, setup is fast and simple. The projector sets up in seconds and no special tools are needed. All computer components are easily accessible and only require a single power cord to come online. You can control the planetarium from a tablet (Windows, Android, iPad) or from a laptop.
iPad Interface with Digistar Controller
Digistar Lite can be operated from an iPad. Use your finger to explore the universe and use multiple windows to multi-task. The new Digistar Controller includes manual controls to quickly adjust common parameters in a mobile dome.
Multi-language
Digistar is fully Unicode compliant, allowing real-time on-dome text to be displayed in virtually any language or character set. Digistar includes labels for the most common languages.
Fulldome Shows Included
Each system comes pre-loaded with over 10 fulldome shows. The E&S library includes more than 250 fulldome shows, covering a wide array of topics, available for optional licensing. Custom packages are also available.
Optional Software Upgrades
Digistar Lite's functionality can be expanded with software upgrades including: Show Builder, Hi-Res Planetary Surfaces, AMNH Digital Universe, STEAM, NOAA-Science on a Sphere, Solar Dynamic Observatory, Digistar Cloud, Domecasting, and more.
Optional Hardware Upgrades
Additional hardware upgrades are available to customize the Digistar Lite to your needs, such as Ambient RGB LEDs for theater lighting and effects, 5.1 audio output, presenter microphone, and a new accessibility package for the hearing impaired and disabled.