Jennifer Chalsty Planetarium
Jersey City, New Jersey
SYSTEM HIGHLIGHTS
True8K™ Digistar 6 system
10 Christie 4K projectors
 27 meter NanoSeam Spitz dome
50 Million Unique Pixels on the Dome
Auto-Blend & Auto-Align System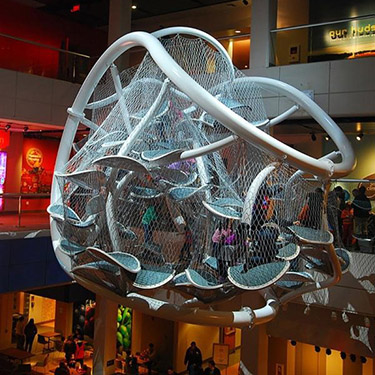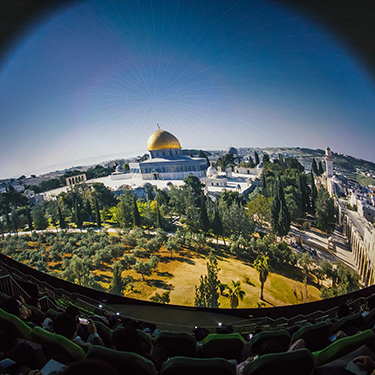 SUMMARY
Jersey City, New Jersey– If you want to see one of the biggest, boldest recreations of the night sky, you might only have to book a trip to New Jersey in the near future. The newly renovated Jennifer Chalsty Planetarium at the Liberty Science Center is the world's largest IMAX dome theater (27-meter diameter) and will soon have the world's largest digital giant screen dome system with a True8K™ Digistar 6 system from Evans & Sutherland (E&S). This will be the world's first True8K giant screen digital dome, replacing a 1570 film system.
The True8K Digistar 6 system will feature 10 Christie Boxer 4K projectors that produce 30,000 lumens each, for a total brightness of 300,000 lumens on the dome. The resolution of the digital image that will cover the entire dome, which will be reskinned with a Spitz NanoSeam perforated aluminum surface for a beautifully seamless hemisphere, will be upwards of 50 million pixels – that's 25 times the resolution of HDTV and over 6 times the resolution of 4K TV. This is the highest giant screen dome resolution in the world! The 10 4K projectors will be seamlessly aligned and blended with E&S auto alignment and auto blending systems for a bright, colorful image that surpasses the quality of 1570 film.
The Digistar 6 system has an extensive suite of real time astronomy features, allowing audiences to explore the universe in three dimensions while witnessing the latest scientific discoveries, automatically updated in the system on almost a daily basis.
LSC's Chief Operating Officer, Jeff Sasson said, "As the largest giant screen film dome in the world, we needed a digital solution that was second to none, with an image quality that exceeded the gold standard set by 1570 film. We found this solution and so much more with Evans & Sutherland and their talented team. We can't wait to introduce this new system to our audiences to show them just how beautiful digital giant screen films look in True8K and to take them on journeys of discovery to the far reaches of our galaxy and to the edge of the universe."
E&S President and COO Kirk Johnson said, "The True8K installation at Liberty Science Center will be a true showcase for the capabilities of digital projection technology and the power of our Digistar 6 system. We are proud to be a part of Liberty Science Center's technology upgrade and look forward to working together for many years into the future."