The Daniel M. Soref National Geographic Dome Theater & Planetarium
Milwaukee, Wisconsin
SYSTEM HIGHLIGHTS
World's first planetarium in the world to debut Digistar 6 technology

Five 4K Christie Boxer video projectors
 30,000 lumens per projector; a total brightness of 150,000 lumens across the entire dome hemisphere
Auto-Blend & Auto-Align System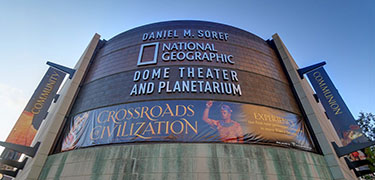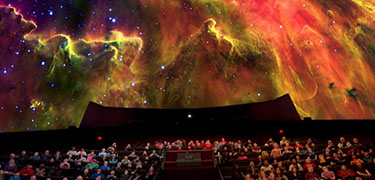 SUMMARY
Milwaukee, Wisconsin–Milwaukee Public Museum's planetarium is Wisconsin's largest and most modern, and is the first Planetarium in the world to debut a Digistar 6 computer projection system that fills the entire Dome Theater with stunning 3D animations, creating an immersive astronomy experience. You'll see breathtaking vistas of the night sky, planets, the Milky Way and distant wonders of the universe.
The new Digistar 6 system from Evans & Sutherland uses five 4K Christie video projectors that produce 30,000 lumens each, for a total brightness of 150,000 lumens across the entire dome hemisphere. Using auto alignment and auto blending systems, the five projectors precisely align and blend together to form a single, seamless fulldome image.
With crystal-clear images on a six-story-tall screen and wraparound digital surround sound, watching a show in the Dome Theater transports you into the center of the action — be it climbing the daunting heights of Everest, cruising the skies on the back of a pterosaur or experiencing the weightlessness of space.
"We're thrilled to launch Digistar 6 at MPM," said Bob Bonadurer, Director of the Dome Theater and Planetarium. "The stunning new imagery will captivate our audiences and get them closer to the action than ever before – whether that's blasting off into space or trekking through a National Park. The dome imagery is crisp and life-like, it's awe inspiring."