Singapore
SYSTEM HIGHLIGHTS
8K Image Resolution
Active Stereo 3D
Five 30,000 lumen Christie Boxer projectors
Auto Alignment & Auto Blending Systems
23 meter diameter dome
221 Seats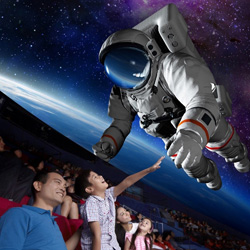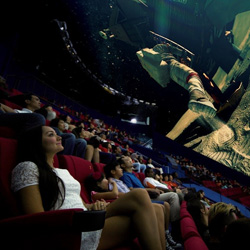 One of three new 8K resolution E&S 2015 installations in Asia, the Science Center Sinapore's Omni-Theatre is Asia's brightest digital fulldome system with each of the five Christie Boxer 4K30 projectors displaying a never-before-seen 30,000 lumens in a dome.
The 23 meter dome tilted at a 30 degree angle allows for seating of 221. The audience, with Digistar 5's software capabilities, will be able to transcend physical boundaries and travel virtually to remote locations on the Earth and the universe from the comfort of their own seats in the Omni-Theatre.
Mr. Clarence Sirisena, Deputy Chief Executive of Science Centre Singapore: "Here at the Science Centre Singapore, we constantly innovate and refresh our offerings and we recognize that immersive environments are the next learning frontier that can help bridge gaps between classroom learning and real-life applications. This immersive 8K experience, augmented by the real-time live astronomy presentation conducted by our team of science educators, will enable visitors to explore and learn about space like never before. We hope this will pique interest and inspire the youth to push boundaries and explore new territories in space science, exploration and research."
The upgraded Omni-Theatre officially reopened to the public 30 May 2015.