Schaefer Planetarium and Space Object Theater
SYSTEM HIGHLIGHTS
 

SP2HDQ Cove Projectors (2560 x 2560)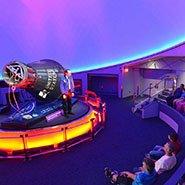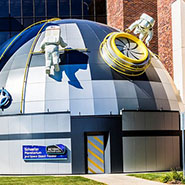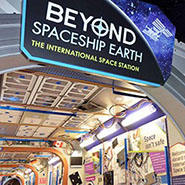 SUMMARY
In May of 2016, The Children's Museum of Indianapolis opened their new Beyond Spaceship Earth gallery which includes an immersive space object experience called the Schaefer Planetarium & Space Object Theater. This theater features a Digistar 5 SP2 HDQ (2560 x 2560 resolution) with two cove-mounted Barco F-35 projectors. The dome theater is a unique area in which real space vehicles and equipment, as well as a dynamic light-and-sound experience help tell stories of missions, astronauts, and events through the history of space exploration by featuring key artifacts. It opened with the Liberty Bell 7 capsule, flown in Earth orbit by Indiana's own Gus Grissom, on display on a hydraulic platform in the front of the theater, so that it can be raised and lowered during the fulldome presentation.
Founded in 1925, The Children's Museum of Indianapolis is a nonprofit institution committed to creating extraordinary family learning experiences that have the power to transform the lives of children and families. With a 472,900 square-foot facility situated on 29 acres, it is the largest children's museum in the world.
The Planetarium at the hands-on science centre will undergo extensive refurbishment by installing an Evans & Sutherland Digistar 5 full dome 360° digital 3D projection system. The upgrade will utilize 'active' 3D technology, with shows projected in 4K resolution (UHD Ultra High Definition) from two Christie projectors, and 7.1 surround sound, creating a fully immersive experience.
Originally known as the Orange Imaginarium when it originally opened in 2000, the Planetarium is an iconic part of Bristol's harbourside. Since it opened, we've inspired over 1 million visitors with astronomy through our presenter-led shows!
Stephen Hilton, Director of Bristol Futures at Bristol City Council: "By upgrading the Planetarium to create a state-of-the-art city data visualization facility, we are developing something world leading and unique for Bristol citizens and businesses. Data is increasingly an important city asset and being able to visualize it in new, highly dynamic and interactive ways will showcase the creative digital skills, which are one of the city's greatest strengths."
The At-Bristol Science Centre Digistar 5 Theater opened to the public in April 24 2015.