To Bennu and Back:OSIRIS-REx Asteroid Sample Return
Live domecast with The INTUITIVE Planetarium at the U.S. Space & Rocket Center
September 22nd, 2023
7:00pm (CT) / 6:00pm (MT)
Duration: 60-75 minutes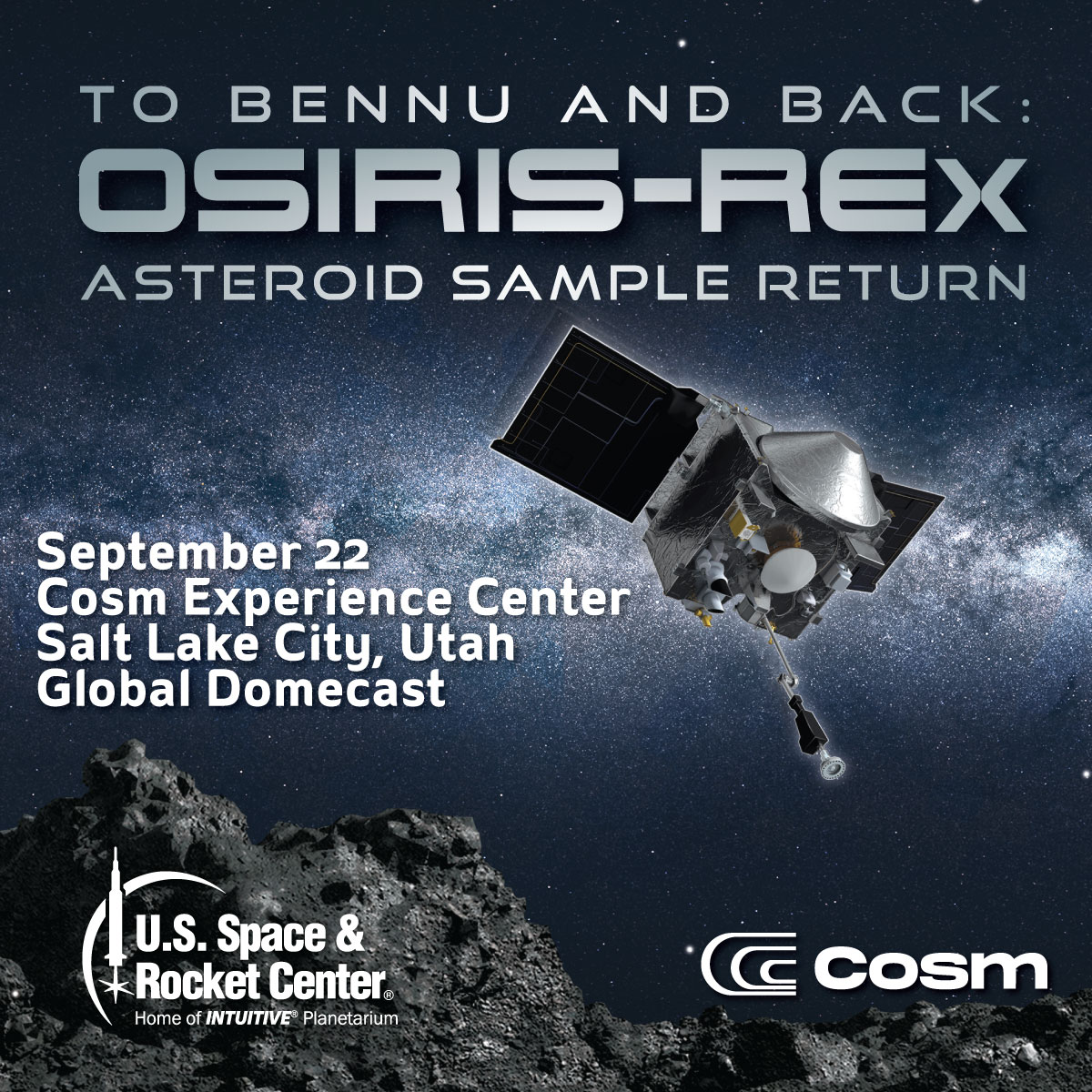 Celebrate the Return of the OSIRIS-REx
The INTUITIVE Planetarium at the U.S. Space & Rocket Center is excited to host To Bennu and Back: OSIRIS-REx Asteroid Sample Return in collaboration with Cosm and NASA Marshall Spaceflight Center's Planetary Missions Program Office.
This live domecast will recap the excitement of the OSIRIS-REx mission, explore the rubble-strewn asteroid Bennu, and celebrate the upcoming return of the OSIRIS-REx sample return capsule, which is scheduled to land in the Utah desert on September 24th.
The show will feature interviews with OSIRIS-REx team members such as Principal Investigator (PI) Dr. Dante Lauretta, Deputy PI Dr. Dani DellaGiustina, and Project Scientist Dr. Jason Dworkin, as well as live commentary from Mission Manager Dr. Solveig Irvine.
Planetariums can participate via Digistar 7 Domecast (requires version 7.23.07) or via 2k fulldome livestream.
Participating Institutions
Clark Planetarium (SLC, UT)

Buehler Planetarium (Sanford, FL)

Science Museum of Virginia (Richmond, VA)

Abrams Planetarium (East Lansing, MI)

Dieruff High School (Allentown, PA)

Challenger Learning Center (Lockport, NY)

Poinciana STEM Elementary School (Boynton Beach, FL)

Mesa Community College (Mesa, AZ)




South Carolina State Museum (Columbia, SC)

Cypress College (Cypress, CA)
Battle Point Astronomical Association (Bremerton, WA)

Southwest Minnesota State University Planetarium (Marshall, MN)

Calusa Nature Center & Planetarium (Fort Myers, FL)

Mochileros Astronómicos (Paraguay)

Ballarat Municipal Observatory & Museum (Ballarat, Australia)

Planetarium at Manitoba Museum (Winnipeg, Canada)

Robeson County Planetarium (Lumberton, NC)

Bogota Planetarium (Bogota, Colombia)

Arthur Planetarium at the Earth to Sky Park (Burnsville, NC)

Planetario del Instituto Geografico Militar (Quito, Ecuador)