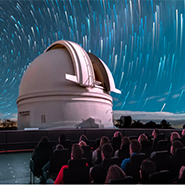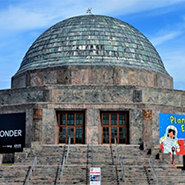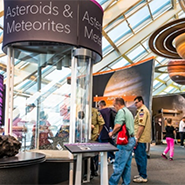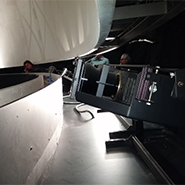 January 26, 2017 — The Adler Planetarium, America's first planetarium, opened its doors in 1930 and has been a Chicago cultural icon ever since.
The Adler Planetarium operates two domes, all day, 363 days a year – presenting nearly 5000 planetarium presentations each year. For this demanding schedule, the Adler is refurbishing both of their dome theaters with 8K resolution Digistar 6 systems from Evans & Sutherland. Digistar 6 provides a rich feature set that allows the team at the Adler quickly and intuitively to create high quality real time programming for their audiences, bringing the latest discoveries to audiences at the speed of science. Each theater features a different multi-projection solution optimized for the size of each dome to provide bright, high-contrast imagery on the screens.
The 8K Digistar 6 system in the Grainger Sky Theater's 70′ diameter dome uses six Sony SRX-T615 4K projectors with 18,000 lumens per projector and 12,000:1 contrast; the 8K Digistar 6 system in the 55′ diameter Definiti Space Theater uses six Sony GTZ280 4K laser phosphor projectors with 5,000 lumens per projector and 20,000:1 contrast. All projectors in both theaters are seamlessly blended together using E&S' auto alignment and auto blending systems that will keep the imagery looking expertly aligned with the click of a mouse.
Adler's Director of Theaters Mark Webb said, "We needed a planetarium system that could do everything from advanced visualization – to pristine night sky – to marriage proposals and cocktail parties. A workhorse system that was easy to program and easier to operate, without sacrificing any traditional planetarium functionality. And we needed to know that we were getting a proven product on delivery and solid support after the sale. For all these reasons and more, we selected Digistar 6 from Evans & Sutherland, and we are excited to have them as our technology partner now and into the future."
E&S President and COO Kirk Johnson said, "The Adler Planetarium has been an industry leader in real time programming, bringing the latest astronomical discoveries to their audiences and using live presenters to provide a truly memorable experience. With the power of Digistar 6 in their hands: its advanced features and its ease of use, we can't wait to see how our system revolutionizes the production workflow at the Adler, and how the ultra-high resolution 8K domes will delight and amaze audiences of all ages, igniting the spark for a lifetime of learning more about our universe."