The Evans & Sutherland Auto Alignment and Auto Blending systems automatically provide multi projector alignment, color blending and brightness matching to ensure the system looks as seamless as possible. This proprietary system is fully integrated into the Digistar 5 software. We offer two versions of the hardware / software solution to meet the needs of planetarium professionals:
AutoAlign
AutoAlign + AutoBlend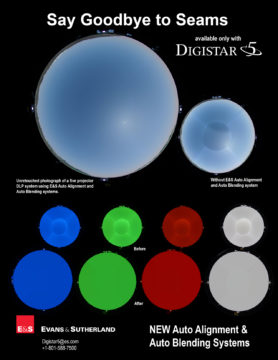 Auto Alignment Demonstration
Hardware and Software
Integrated into Digistar 5 software – Custom proprietary E&S developed software and algorithms operate within the Digistar 5 system so there is no need to run multiple programs
Works with all projector types and configurations
One button operation
AutoAlign alignment time is typically less than 5 minutes
AutoBlend calibration time is typically less than 10 minutes
AutoAlign projector to projector alignment is less than ±1/2 pixel
Automatic calibration for AutoBlend includes:

Brightness uniformity across multiple projectors
Gamma matching between projectors
Edge blending
The Auto Blending Experience
The before and after images below are from completely unretouched photographs taken directly from our dome.