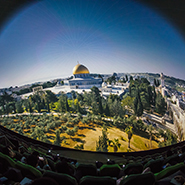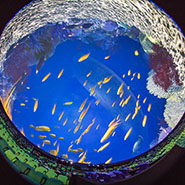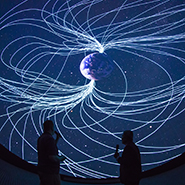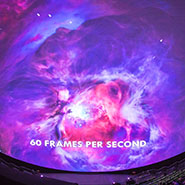 On April 19, 2017, the largest planetarium and digital giant screen dome theater in the world hosted a demo of an Evans & Sutherland (E&S) True8K™ Digistar 6 digital dome system at the China Science and Technology Museum (CSTM). This was the first time a True8K system has been demonstrated outside of North America. The demo took place as part of the 7th Beijing International Film Festival. Delegates and VIPs from all around China witnessed this groundbreaking system designed to replace a 1570 film system and provide nearly unlimited astronomical and scientific visualization capabilities.
As the national science museum in China, CSTM takes the lead in presenting popular science. They worked with E&S to make the demo successful so that people in the Asian market could learn about the latest and best technology available for digital dome theaters. The Digistar 6 system provides an extensive suite of real time astronomy features, allowing audiences to explore the universe in three dimensions while witnessing the latest scientific discoveries, automatically updated in the system on almost a daily basis.
The True8K Digistar 6 system featured 10 Christie Boxer projectors that produce 30,000 lumens each, for a total brightness of 300,000 lumens and 88 million pixels (a resolution of over 50 million unique pixels) across the giant 30-meter diameter dome – that's 25 times the resolution of HDTV and over 6 times the resolution of 4K TV. The 10 Christie projectors were seamlessly aligned and blended with E&S auto alignment and auto blending systems for a bright, colorful image surpassing the quality of 1570 film.
"E&S has more than 30 Digistar systems in China. Our customers always expect that they will get better technology from E&S. Now that we have shown the Digistar 6 True8K system, people will get excited about it, since it represents the highest standard for digital dome theater," said Minsheng Lu, Chief Representative and Director of the E&S China office.
The Beijing demonstration was the fourth public demo showcasing E&S digital dome technology as a digital replacement for 1570 film systems. Each demonstration, from Richmond, Virginia in 2014 and San Jose, California in 2015 (both 8K) to Toronto, Ontario in 2016 and this year's demonstration in Beijing (both True8K) reflects E&S' vision to design and deliver the highest image quality available with today's state-of-the-art digital projectors.
Following the GSCA demo in Toronto last year, Daniel Ferguson, director of the award-winning giant screen film Jerusalem, saw shots from his film mastered for the first time in 8K x 8K resolution. This was Daniel's reaction: "We've seen incredible image stability and clarity. We've seen a tremendous amount of information. I had a clip of material that I've seen in different formats – in xenon digital, in laser, in film, and today, I saw information that I had never seen before."
From 1K resolution up to True8K, E&S continues to offer a range of projection options that allow an operator to put more or fewer pixels on the screen as needed with lamp-based, laser phosphor, and direct RGB laser projection options, all built around the industry-leading immersive digital dome system, Digistar 6.