Flint, Michigan, May 26, 2015 — Historically known as "The Vehicle City", Flint will be unveiling a completely renovated Longway Planetarium in the city's revered Cultural Center campus. The event will be taking place during a weekend-long celebration called the "Weekend of Wonder", May 29 – May 31.
Since originally opening in 1958, Longway Planetarium has been Michigan's largest planetarium theater, and will now also be the most modern and technically up to date facility in the country.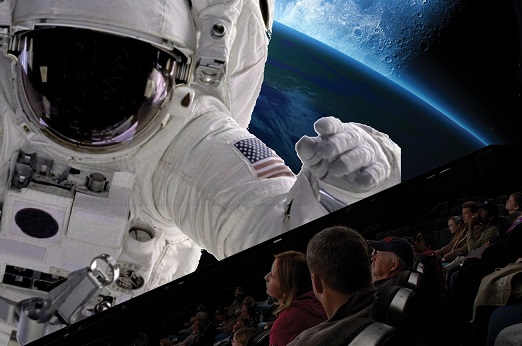 The major $1.8 million dollar renovation includes new seats, new dome, new 7.1 surround audio system and a change in configuration to a tilt full-dome theater. But the real technical breakthrough is that the Longway Planetarium will debut cutting-edge, high resolution planetarium projectors called "Christie Boxers", the very first of its kind in North America.
These projectors are three times as bright as most current projectors used in most planetarium facilities, and in addition to providing 4K resolution across the dome, also produce stunningly beautiful images and a gorgeous recreation of the night sky. The full dome technology installed allows the viewer to travel virtually anywhere, from the farthest reaches of the Universe, to inside the human body, to 85 million years into the past.
Of primary interest is the technology and projection system the Planetarium will feature: the very first of its kind in North America and one of only several in the world.
Todd Slisher, Executive Director of Sloan*Longway said; "We are pleased to showcase these new high resolution video projectors (the Christie Boxers) as the first in any planetarium in the U.S. and Canada. This powerful display system combined with the Digistar 5 digital planetarium will provide audiences with an experience that is first of its kind. We feel that this new renovation of the Longway Planetarium will position us to be the premier informal educational facility in the region."
Jeri Panek of Evans & Sutherland Digital Theater in Salt Lake City, Utah who was instrumental in supplying the projection system added; "Digistar 5 puts the virtual universe inside the planetarium. It has everything from the latest data collected by today's space probes to volumetric visualizations of nebulae with our Milky Way Galaxy to a comprehensive set of solar system models including planets, moons, asteroids, comets, Kuyper Belt objects, and more, all in stunning high-resolution computer graphics."
This new system at Longway Planetarium will be unveiled in an invitation only ribbon cutting ceremony on Friday, May 29th at 3:00 PM. The ribbon cutting ceremony will be followed by a demonstration of the renovated Longway Planetarium. In addition, this event kicks off the Weekend of Wonder celebration (made possible by ITC Holdings Corp), with free shows for the general public (beginning at 10:00 a.m.) along with many other activities that will take place at Longway Planetarium all weekend long. See the planetarium website at Longway.org for more details on the Weekend of Wonder celebration.