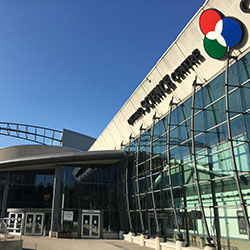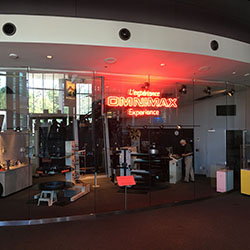 Friday, October 7, 9:00am – Ontario Science Centre
August 24, 2016 — Featuring the world's first giant screen demo of a True8K™ (8192 x 8192 resolution) digital fulldome system, this half-day smorgasbord of dome presentations, presented by the GSCA Technical Committee, will feature detailed and impartial side-by-side 15/70 film versus digital comparisons, some of the very best film capture transferred to digital, high-resolution live content digitally captured, high-resolution digital time-lapse, and high-frame-rate presentations.
Building upon the first "8K" Digital Dome Demo in Richmond, VA, in 2014, and last year's "8K" Digital Dome Demo in San Jose, Evans & Sutherland will demonstrate the Digistar digital planetarium/dome cinema system with 10 Christie 4K projectors on the dome screen at the Ontario Science Centre Shoppers Drug Mart Omnitheater. The system will use E&S' proprietary auto alignment and blending systems to produce a seamless ultra-high resolution image with a minimum of 8000 pixels across every meridian of the dome. FotoKem is supervising the production of pristine 8K digital assets, brand new prints from 1570 negatives, and 8K source material shot with state-of-the-art digital cameras. We will present 1570 film and 8K digital in a split screen, so the audience can carefully compare the quality of both media side-by-side. Additionally, we will present 8K digital source material mastered in a fully 8K digital pipeline, 8K digital time lapse material, high frame rate (HFR) 8K digital content, and much more. Featuring the highest-resolution and brightest digital fulldome system ever demonstrated, this is a must-see for any dome operator and anyone producing for the dome.
Martin Howe, Co-chair of the GSCA Technical Committee: "I've spent many hundreds of hours in domes, and experienced many world's firsts of the digital dome world. With all the preparation that's going into this upcoming GSCA dome day to get the best possible content on the screen, and the specification of the equipment that's going in, these three hours are lined-up to surpass everything that's gone before. It's a do-not-miss event!"