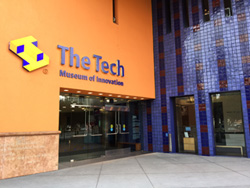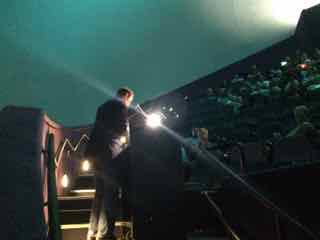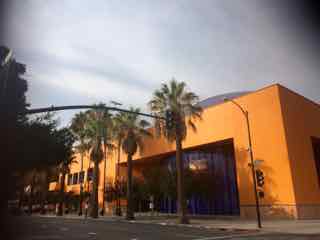 WRAP-UP OF DIGITAL DOME DEMO BY EVANS & SUTHERLAND
As a follow-up to the world's first, split screen demo between 15/70 film and 8K fulldome digital projection at the Science Museum of Virginia last October, Evans & Sutherland (E&S) again demonstrated an 8K Digistar 5 digital fulldome system at The Tech Museum of Innovation in San Jose, California for the Giant Screen Cinema Association's (GSCA) Dome Day.
Last October in Richmond, VA, the GSCA hosted a special one-day event immediately following the ASTC conference in Raleigh, NC. Evans & Sutherland demonstrated their 8K digital fulldome system installed at the Science Museum of Virginia in the 23 meter dome that also housed their IMAX projector (which has since been removed). This was the first time that the GSCA delegates experienced an 8K digital system in a traditional film dome, and the first time in history that 15/70 film and 8K digital projection were shown side-by-side in a fully synchronized demo that presented identical content split down the middle of the dome. Film content was presented on the left, and digital content was on the right. Delegates interviewed after the event overwhelmingly agreed that the digital system met or exceeded the quality of 15/70 film projection. See the following feature stories from last year's demo: GSCA 2014 Wrap-Up and GSCA 2014 Testimonials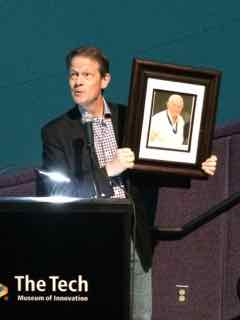 This March, the GSCA Technical Committee issued a request for information for a Dome Day Technology Showcase asking companies to submit proposals to present the latest in digital dome projection technology including 8K fulldome, DCI on a dome, and 3D fulldome stereo. Of the companies that submitted proposals, only one company, Evans & Sutherland, was able to demonstrate all the technology requested by the Tech Committee, and was therefore selected to present a demo at Dome Day.
This presentation was not without its challenges. The Tech Museum is open to the public seven days a week and runs daily shows in their IMAX Dome theater from 10:00 am to about 5:00 pm. Also, the dome at The Tech extends all the way down to the curved wall that surrounds the theater, so there was no way to install a standard 5-projector 8K fulldome system with projectors behind the dome.
E&S had to first engineer a solution for the projector placement and calculate brightness, blend regions, and dome coverage to see what would even be feasible within the theater. 
E&S used software developed in house to simulate projector coverage and select the ideal positions for the installation. In the design, three Christie Boxer 4K projectors were located in the rear projection booth behind glass windows that overlooked the theater, and two additional Christie Boxer projectors were mounted on custom projector stands positioned at each end of the back row of the theater. Unlike nearly every fulldome installation, there were no projectors placed in the front of the dome, so this prevented E&S from achieving coverage over the entire 165° dome. Despite this, E&S covered over 80% of the dome: more than typical coverage from a 15/70 film projector.
On the morning of the demo about 150 delegates arrived at The Tech to see the E&S demo, which was scheduled as the first event of Dome Day. Tim Hazlehurst, Co-Chair of the GSCA Technical Committee served as the morning's emcee. After welcoming the delegates, Tim introduced GSCA Chair, Gordon Stalans, to say a few words about the importance of Dome Day for the members of the association, since about half the giant screen licensing revenue comes from dome theaters. Tim Ritchie, President of The Tech Museum spoke next about the value of immersion and connecting with the next generation in their theater, which is in line for a digital renovation soon. Tim also gave a touching tribute to Bob Grimm, a longtime board member at The Tech Museum of Innovation, a trusted colleague, and a true giant screen visionary who passed away earlier this year. He held up a framed picture of Bob, saying he used to have long conversations with Bob, and even though they didn't always agree, Bob had a way of expanding his thinking in unexpected and innovative ways. Now before he makes a decision, Tim often asks, "What would Bob do?"
Michael Daut, Director of Show Production/Marketing for E&S, echoed Tim's passion for immersive media and its ability to transport audiences to new places and give them virtual experiences. He introduced the first clip, the 2015 Sizzle Reel content montage from IMERSA.
A set of 8K clips, some of which were original fulldome content and others converted to fulldome from giant screen film, played in stunning clarity on the dome. Digital warping examples followed. These featured a series of giant screen film trailers mastered in 4K x 3K and warped to the fulldome format by E&S using several proprietary methods to stretch and pre-warp the flat screen content for ideal projection on a dome.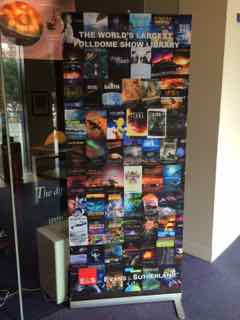 Brian Boehme of Christie presented Hollywood content using a DCI insert projector with a 60′ wide image across the front portion of the dome. This was the first time windowed DCI content on a dome was presented to the GSCA, offering an interesting option for dome theaters hoping to add a DCI component to their theaters.
In a fulldome 3D stereo demonstration, audience members viewed a series of 3D giant screen trailers, 3D clips, and a 3D montage of clips from various producers, through active stereo glasses contributed to the demo by XpanD.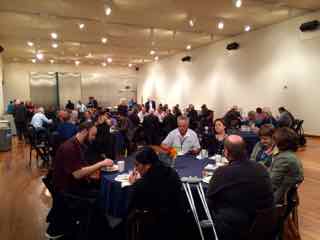 David Sasich from E&S presented additional content in 3D and 2D generated by Digistar 5's real time computer graphics engine. Tim Hazlehurst closed out the demo by presenting a montage of content, both fulldome and giant screen conversions distributed by E&S.
Delegates who attended the event were very enthusiastic about what they saw, commenting that there is no longer a reason to be concerned about multiple projector systems blended on the dome, since the image presented was remarkably seamless. 
As in last year's demo at the Science Museum of Virginia, it was clear that the 8K digital image matched or exceeded the quality of 15/70 film in the dome, and there were wonderful kudos extended to the E&S team for making a temporary installation look so finessed and flawless. Once again, GSCA presented a compelling demo to its members to showcase new digital technology options. Audience feedback indicates this digital technology cannot only replace film, but matches or exceeds its quality in a dome theater.