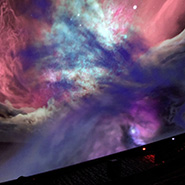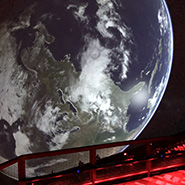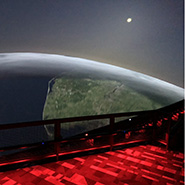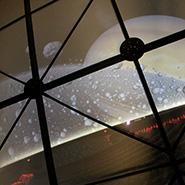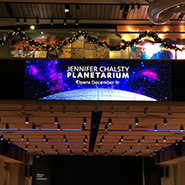 December 8, 2017 – Jersey City, NJ – Imagine standing on the bridge of a starship. One moment you're navigating through the icy rings of Saturn, and then suddenly, you're in ancient China witnessing the construction of a massive tomb of the first Emperor. Imagine no longer. Thanks to the power of Digistar 6, a groundbreaking True8K™ display system, and a NanoSeam dome, the new Jennifer Chalsty Planetarium at Liberty Science Center, the largest and most technologically advanced planetarium in the Western Hemisphere, is your portal to amazing and unseen worlds, just waiting for you to discover.
The theater represents the absolute state-of-the-art digital projection technology and scientific visualization from Evans & Sutherland and seamless dome screen technology from Spitz. The True8K system projects more than 88 million pixels over the entire dome. This is the highest giant screen dome resolution in the world. The 10 Christie Boxer 4K projectors (30,000 lumens each, for a total brightness of 300,000 lumens) are seamlessly aligned and blended with E&S auto alignment and auto blending systems for a bright, colorful image that surpasses the quality of 1570 film.
"Evans & Sutherland and their talented team have delivered a spectacular, high-resolution digital system that has exceeded our expectations. Liberty Science Center is now home to the biggest and most technologically advanced planetarium in the Western Hemisphere," said Paul Hoffman, President and CEO of Liberty Science Center. "We are delighted to introduce the state-of-the-art Jennifer Chalsty Planetarium to the world, allowing our visitors to experience worlds they've never seen, and inspire them to dream beyond their wildest imaginations."
"The True8K system at Liberty Science Center showcases the cutting-edge of digital projection technology and the power of our Digistar 6 system to present a nearly unlimited variety of content to the audiences at this amazing facility," said Kirk Johnson, President and COO of Evans & Sutherland. "We are honored that Liberty Science Center chose E&S to create the first True8K giant screen theater in the world and look forward to working together for many years into the future."
In addition to having the ability to present giant screen films in unprecedented clarity and beauty, the Digistar 6 system has an extensive suite of real time astronomy features, allowing audiences to explore the universe in three dimensions while witnessing the latest scientific discoveries, automatically updated in the system on almost a daily basis.