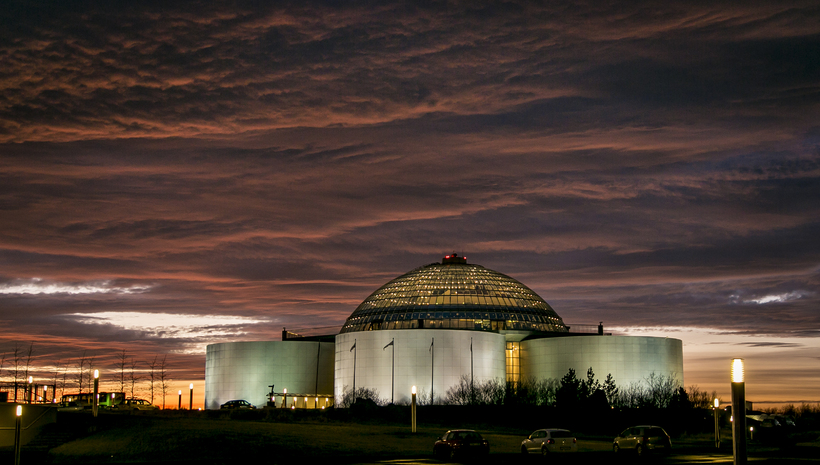 December 14, 2016 — The Perlan, a landmark dome-shaped, glass building in Reykjavik will be home of Iceland's biggest nature exhibition in 2017 as part of a $12 million project and will reopen under the new name, "Perlan: Wonders of Iceland." It will feature man-made ice caves and the country's first planetarium: a stunning 8K resolution digital dome theater with Digistar 6 from Evans & Sutherland.
Bowen Technovation has designed the new immersive theater architecture and package along with extensive new exhibits that will open in two phases, the first in June 2017 and the second in June 2018. The digital dome theater that includes an 8K Digistar 6 system with six Christie Boxer 4K projectors, a new 15m tilted dome screen, AstroFXAudio 7.1 audio, AstroFXAurora lighting, AstroFXCommander show control, and 150 premium seats will open in September 2017. Bowen Technovation chose Digistar 6 for its market leadership, powerful software features and its innovative auto alignment, auto blending, and TrueSync technology to keep the dome imagery looking seamless and elegantly synchronized between all six projectors.
In addition to producing a great deal of media content for the exhibits, Bowen Productions is developing a destination show for the dome theater that tells the story of the natural history of Iceland from its high concentration of volcanoes to its indigenous wildlife and plants. A team of Icelandic artists will create the show: photographers, cinematographers, musicians, and other artists, capturing the spirit and essence of the country and its heritage.
Mayor of Reykjavik Dagur B. Eggertsson signed a contract with museum company Perla Norðursins last week to set up the new exhibition. "These exhibitions will be a benchmark for nature education in Iceland," says company representative Helga Viðarsdóttir. "We are very grateful and proud to have been given the opportunity to set up Iceland's biggest nature exhibition in such a landmark Reykavik venue as Perlan." Mayor Eggertsson sees the exhibition "playing an important part in city life".
Visitors will learn about Icelandic nature, with the focus on linking information on nature to Icelandic history and natural disasters. Primary school children in Reykjavik will be invited to visit the exhibition twice during their school career. Plus over 800,000 tourists are expected to tour the museum each year.