Bangkok, Thailand
SYSTEM HIGHLIGHTS
Center-mounted 4K Dual Christie Boxer Projectors
Existing Zeiss Mark IV integrated with Digistar 5 as hybrid system
 5.1 Surround Sound Audio
Auto-Blending & Auto-Align Systems
Aurora Themed Lighting, Wall Paneling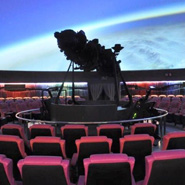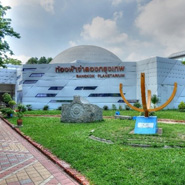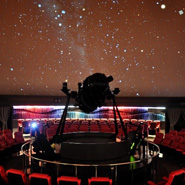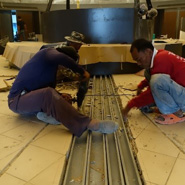 Bangkok, Thailand – Bangkok's long-time astronomical center is ready to beckon and captivate a new generation of children with the universe's mystical lure. The galaxies — near or far, far away — can now be explored using Digistar 5 in the renovated Bangkok Planetarium.
The completely remodeled planetarium done in cooperation with E&S partner Siam TC/Ditto Thailand, features a 4K Digistar 5 with dual Christie Boxer projectors center-mounted to be used alongside the existing Zeiss Mark IV opto-mechanical projector, originally installed in 1964. Special wide-angle lenses were designed and installed on the Boxer projectors to allow Digistar to display fulldome video without shadows from the Zeiss. Digistar 5's auto-blending and auto-alignment keep images projected from the digital projectors seamless and crystal clear.
The entire theater space was completely gutted in the remodeling. 280 new leather seats were installed in a concentric design, with special seatback tilt angles for each row around the theater's center. A unique aurora themed wall paneling and lighting system was designed and installed using lively colors. This bright motif is meant to make the theater seem alive, and beckon the young and old to explore the mysteries of our universe. Fittingly, to extend the theme onto the dome, the planetarium opened showing E&S' fulldome production Experience the Aurora.
Tatriya Jaiboon, Acting Director, Science Centre for Education: "We've improved our facilities to provide more in-depth, up-to-date information about astronomy, which we hope will inspire both children and adults. We want the centre to be a place where everyone can come to relax and be educated at the same time. Our aim is to bring children to the cosmos and other galaxies. We have selected an interior design inspired by the colours of the Northern Lights, which makes us different from other planetariums, which tend to have black walls and chairs. Our theatre is more playful and unique."
Bangkok planetarium reopened to the public on January 5th, 2016. Watch the time-lapse video of the renovation project