World's first True8K™ Theater
10 Cove Mounted 4K Sony VPL-GTZ280 Projectors
 50 Foot NanoSeam Dome – 20° Tilt
50 Million Unique Pixels on the Dome
Auto-Blend & Auto-Align System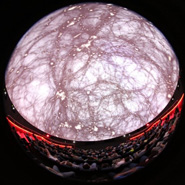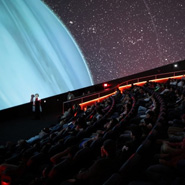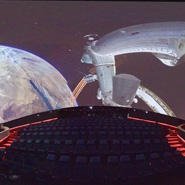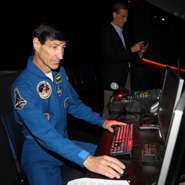 Houston, Texas – The renovated Burke Baker Planetarium is the first True8K™ planetarium in the world. Across a 50 foot Spitz NanoSeam dome, the system displays over 50 million unique pixels and provides 8,000 pixels across every meridian.
Houston Museum of Natural Science wanted to recreate the dark night sky of West Texas with contrast and color approaching all that the human eye can see. The 10 Sony laser projectors with a 20,000:1 contrast ratio have made this possible, delivering a black night sky with bright stars and a rich Milky Way. The extended color space of the projector's laser-generated light source also gives visitors the rich color palette they see in movie theaters.
Digistar 5 uses 20 state-of-the-art graphics processing computers to feed ten 4K projectors with the equivalent of 40 HD streams at 60 frames per second or faster. To combine images from the ten projectors into one seamless scene across the entire dome with no visible blends, E&S installed proprietary auto alignment and auto blending technology.
Dr. Carolyn Sumners, Vice President for Astronomy and the Physical Sciences, HMNS: "Evans & Sutherland delivered on their True8K vision and exceeded all our expectations in Houston. The combination of high resolution, high contrast, high brightness, and rich color palette has turned our planetarium into a destination with record crowds and much applause. We have a star field that is as dark and rich as any on Earth. We have a video that is far sharper, more vibrant, and more immersive than in any movie theater. In a True8K planetarium with its high frame rate, a new reality surrounds you, immerses you, and takes you where you could never go before. With a resolution approaching that of the human eye, True8K should be the goal of any planetarium wanting to create the very best program delivered as playback video or live interaction. The Burke Baker Planetarium is not just a movie theater, but a unique audience experience, like a world-class exhibit, to be enjoyed over and over again."