The Cambrian Theater · Shanghai, China
SYSTEM HIGHLIGHTS
 8K Image Resolution
Inverted 11 Meter Toroidal Screen
 

1 fL of brightness

Auto Alignment & Auto Blending Systems
Astrotec 18 meter diameter dome
230 seats in concentric configuration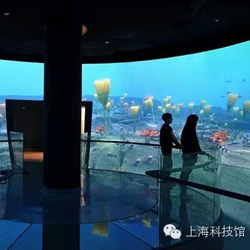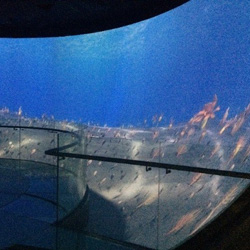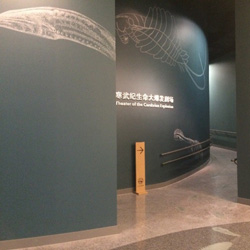 The immersive environment inside the museum's Theater of the Cambrian Explosion is a one-of-a-kind attraction in the world. The dome is inverted and has a 5-meter diameter central pedestal in the center for up to 40 viewers per show to be seemingly submerged in the Cambrian Period ocean environment, teeming with exotic life forms.
There were numerous challenges in designing the Cambrian Explosion Theater. The engineers created the sense of total immersion by designing plank way entrances onto the theater pedestal. Twelve bright LED projectors seamlessly blend videos to fit on the 10-meter diameter dome surface. The ultra-high definition screen resolution is "8K" at over 33 megapixels. The E&S team guided the show's video production company, Shanghai Motion Magic Digital Entertainment Inc., through the process of transitioning from flat-screen, high-definition video productions to an encompassing dome experience.
The computer-animated production, entitled Dawn of the Animal World, carries the audience aboard an imaginary submarine that navigates the primeval Cambrian ocean, all made possible by a unique design. This time-travel journey takes the audience back to a unique period when our small, blue planet exploded with a dizzying array of bizarre multi-celled life forms appearing for the first time, in a seamless full 360-degree panorama.