"8K" Digistar 5 · Lucerne, Switzerland
SYSTEM HIGHLIGHTS
 

"8K" Image Resolution

Five 5,000 lumen 10,000:1 contrast JVC 4K projectors
 

1 fL of brightness

Auto Alignment & Auto Blending Systems
Astrotec 18 meter diameter dome
230 seats in concentric configuration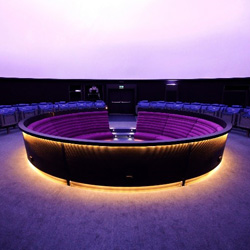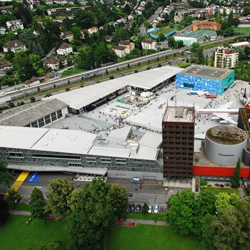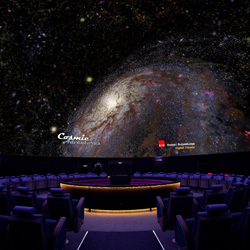 Verkehrshaus – The Swiss Transport Museum (STM) features Europe's first "8K" Digistar 5 digital fulldome system. In May 2014, the museum hosted the Symposium of Planetariums Conference that combined the German, Italian, and French planetarium associations. E&S demonstrated the capabilities of the Digistar Cloud Library for the first time at this conference along with numerous other new system features. The image looks seamless across the dome thanks to E&S' proprietary Auto Alignment and Auto Blending systems.
Marc Horat, STM Planetarium Director: "D5 offers nearly unlimited possibilities to reach a wide variety of audiences. This is not limited to astronomy alone as the system not only offers a lot of content itself but makes it very easy to create new one and even share it with other institutions running D5. One can profit greatly from the experiences of other planetariums all over the world which use their domes for many different topics and purposes. The user interface is well designed so one is not struggling at all with bringing scientific content to the dome but can focus on delivering it to the audience instead."
"We're focusing primary on astronomical content (which really is a privilege), as we have a giant screen film theater in our museum as well. We try to have a distinct set of shows we're offering in the planetarium. But from time to time we have some special events for corporate events and the like, as we have conference facilities as well. There, I create all kinds of great content."
The Digistar 5 system replaced a Zeiss Mark V optical projector after 45 years of faithful service and a fulldome video system installed in 2001, one of the first of its kind in Europe at the time.
The Swiss Transport Museum's Digistar 5 Theater opened to the public in March 2014.